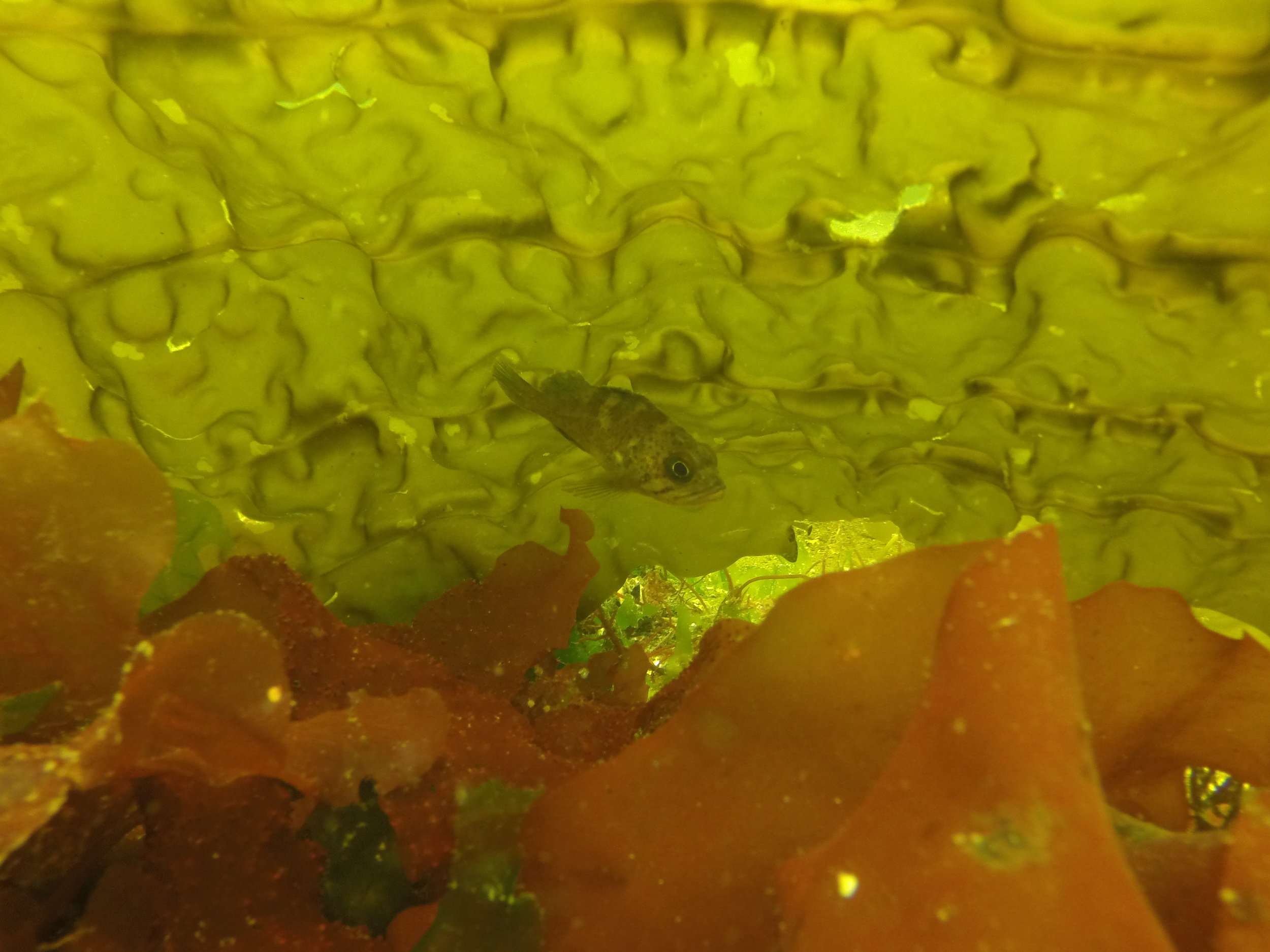 Pitch for GREAT BIG STORY
from Harbor WildWatch
BACKSTORY
To better understand how to restore endangered rockfish populations in the Puget Sound (specifically bocaccio and yelloweye rockfish) and learn more about the complex life of these fish, The Washington Department of Fish and Wildlife (WDFW) and NOAA Fisheries have deployed remote operated vehicles (ROV's) to survey adult rockfish in waters up to 600 feet deep. While this research will help elucidate population patterns and assess the performance of conservation areas for adult rockfish, data is lacking when it comes to juvenile rockfish in the shallow nearshore environment.
This is where community science comes in.
In 2017, Harbor WildWatch — an environmental education nonprofit — embarked on a collaborative venture with NOAA scientists and recreational SCUBA divers, led by Science Specialist Stena Troyer. This collaboration is to make observations about Year of Young rockfish (YOY); rockfish that are less than one year old (~10cm) that happen to also use the same habitat as many recreational divers.
To fill the data gap, NOAA developed an easy to use protocol that can be added to any dive. Essentially divers count the number of YOY they see in a certain habitat type at a certain depth and then report these findings to NOAA. These additional observations are the crux of why community science is so important. There is no way that fisheries scientists could accomplish such a large-scale look at rockfish recovery on their own. With more observations, in more places along the Puget Sound, scientists are more likely to gain a better understanding of what conditions lead to the success of young rockfish and assess overall rockfish recruitment and recovery. The more eyes in the water, the merrier!
"Rockfish remind me of salmon in the sense that both fish species depend on many different habitat types throughout their life history… and they are both delicious. Being a tasty, and thus economically important fish, is great because in order to protect and preserve them, we need to take care their many different habitat types — which can be surprisingly complicated. Name any marine habitat (eelgrass beds, kelp forest, sand bottom, rocky reef, open water, etc.), and rockfish will have used it during one of their life stages."
- Stena Troyer, Science Specialist (pictured far left)
PITCH
Harbor WildWatch invites Wes Larson, from Great Big Story's Mission Wild, to join Stena and her team of volunteer divers on a rockfish survey (or three) in the south Puget Sound. Mission Wild would get an in-depth look at the community science work that Stena leads with our collaborative partners, but also have a chance to feature an endangered fish with quite the backstory. The rockfish surveys are a branch of Harbor WildWatch's community science program, which has been surveying nine different beaches in the south Puget Sound twice a year since 2013.
Stena and her volunteers dive in Tacoma, Washington once every month. Stena's background is in biology, and she has been Harbor WildWatch's Science Specialist since 2013. Outside of leading Harbor WildWatch's community science program, Stena is a lead naturalist and educator for many of Harbor WildWatch's environmental education programs, which are led in both local schools and public programs.
WHY ROCKFISH?
Rockfish, well, rock. (Sorry — had to get a pun in there somewhere). The Puget Sound is home to 24 different species, two of which (boccacio and yelloweye) are listed on the Endangered Species Act. These fish are shaped similar to bass, can range from 6 inches to 3 feet in length depending on the species, and come in a range of colors and patterns: speckled, striped, pink, brown, blue... the list goes on. Populations began to dwindle in the 1980s due to overfishing; unbeknownst to fisherman, rockfish reproduce at a glacial pace. The species doesn't reach sexual maturity until they are 17 years old and can live 100 years. Although they can be found in depths up to 2,000 feet, they depend on multiple habitats for survival (as noted above), which makes conservation complicated.
Rockfish have a litany of cool factoids:
They've mastered the technique of hovering motionless in the water column, but also enjoy resting on the bottom of reefs. Rockfish eat fish, shrimp, crabs, squid, jellyfish, plankton, and algae. They are ovoviviparous, meaning they are amongst only a few species of fish that give live birth rather than lay eggs. Some species of rockfish, like the China Rockfish (Sebastes nebulosus), are very territorial and are homebodies, sometimes staying at their 'home site' for years. Other species, such as the Blue Rockfish (Sebastes mystinus), school in large groups.
Harbor WildWatch is an environmental education 501c(3) nonprofit, based in Gig Harbor, Washington. Our mission is to inspire stewardship for the Puget Sound, and greater Salish Sea, by providing equitable learning opportunities about the environment to our local community and beyond. In 2018, Harbor WildWatch reached over 32,000 individuals by providing more than 650 environmental education programs, primarily in Pierce and Kitsap counties.

Today, Harbor WildWatch has four full-time staff members and a team of wonderful program volunteers. We are located in historic downtown Gig Harbor at the Skansie Visitor & Interpretive Center, which is free and open to the public. We offer free and low-cost environmental education programs year-round, both in and outside of local schools, for all ages. Learn more by visiting our website.